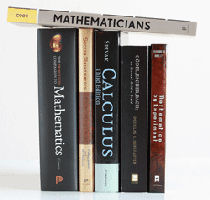 Tutoring — High School and College Mathematics
Question: Why should you pay $50 to $60 or more per hour of tutoring with a commercial tutoring service when you can get the same qualified and certified tutor for significantly less? Since the typical overhead of commercial services is from 30% to 50%, should your money go to people who are not directly tutoring you or your child?
I am an experienced tutor, having successfully tutored many high school and college students in all math subjects from Algebra 1 to Calculus 3. I have several hundred hours of tutoring experience.
My specialities are Calculus 1/2/3 and Precalculus (including trigonometry) — few math tutors are fully proficient and competent in calculus. I am able to challenge even the brightest of math students who want to learn the deeper, more rigorous concepts of calculus and analysis. ε-δ anyone? This is why I am referred to as "Dr. Calculus". Yet, I am able to make mathematics down-to-earth and understandable for everyone!
High School Math Tutoring Subjects:
Besides Calculus (including AP Calculus AB/BC preparation) and Precalculus/Trigonometry, I will sometimes tutor high school Algebra 1/2, Geometry, and Statistics/Probability — I also tutor the related Math 1 to 4 courses still taught in some Georgia public high schools
College Math Tutoring Subjects:
Calculus 1/2/3, Precalculus, College Algebra, Trigonometry, Ordinary Differential Equations, and Numerical Analysis
---
My tutoring fees:
My tutoring rate is very competitive with commercial tutoring services and independent tutors at $38/hour, with discounts available for longer-term or certain pay arrangements. No contract required (unlike some commercial tutoring services which require a contract.)
As mentioned in the mini-bio on my home page, I am a certified tutor for two well-known and highly regarded commercial tutoring services — you get the same exemplary tutoring at a much lower cost!
I am willing to tutor up to 50 miles away from Acworth/Kennesaw (a few miles northwest of Marietta), with no mileage charge for the first 30 roundtrip miles. However, I do charge $0.75/mile (negotiable of course!) for every mile over 30 roundtrip miles.
Minimum 1 hour per session; however, I prefer at least 1.5 hour sessions, particularly for round trip travel distances in excess of 10 miles. (I find that students tend to learn a lot more in a 1.5 or 2 hour session than in a 1 hour session.)
I accept payment via Paypal, allowing you to pay by credit card!
Skype video tutoring at slightly discounted rates with Paypal arrangement. (Available worldwide, of course!)
Tutoring location:
I can tutor at your house, or at a convenient public location such as a coffee shop, library, etc.
---
Tutoring Certifications
I am certified with a well-known and highly regarded online tutoring service in the following high school and college subject areas. Most of these subject areas required passing a certification test.
ACT English
ACT Math
ACT Reading
ACT Science
Algebra 1
Algebra 2
Aspergers
ASVAB
Chemical Engineering
Chemistry
Differential Equations
Ecology
Elementary Math, Science, Spelling, Reading
English
GED
Geology
Geography
Geometry
GMAT
Grammar
GRE
HTML
LSAT
Mechanical Engineering
Physical Science
Physics
Prealgebra
Precalculus
Probability
Proofreading
PSAT
SAT Math
SAT Reading
SAT Writing
SSAT
Statistics
Trigonometry
Vocabulary
Writing